Dining
Full Course Dinner
At dinner, we offer hotel-made full course dishes of local foods harvested in Shishu and Hakuba. 3 chefs of the owner's family serve all meals, from appetizer to dessert, which are only at Assam.
[One Day's Full Course Dishes]
Hors d'oeuvre: Smoked Hakuba Pork Fresh pasta with basil sauce
Fish: Grilled Azumino Trout with Herbs
Soup: Assam-made Corn Potage
(Rice: Organic Rice of Niigata Akiyama Farm)
Meat: Shinshu Beef Round Steak with Handmade Blackberry Sauce
Dessert: Cheese Souffles Cake
*Please choose main dish from "Shinshu Beef" and "Japanese lobster".(May vary depending on the plans.)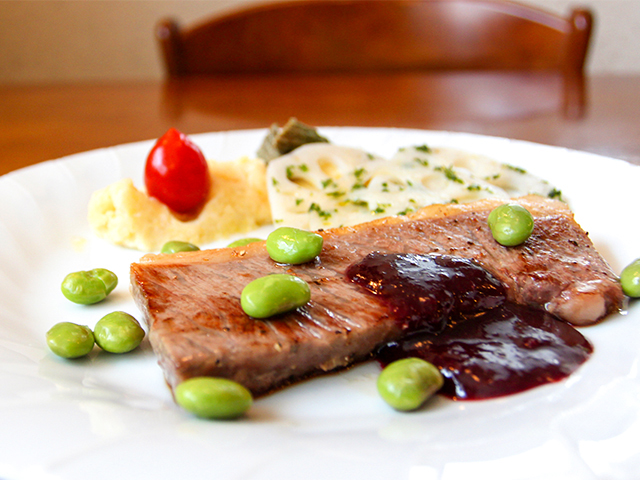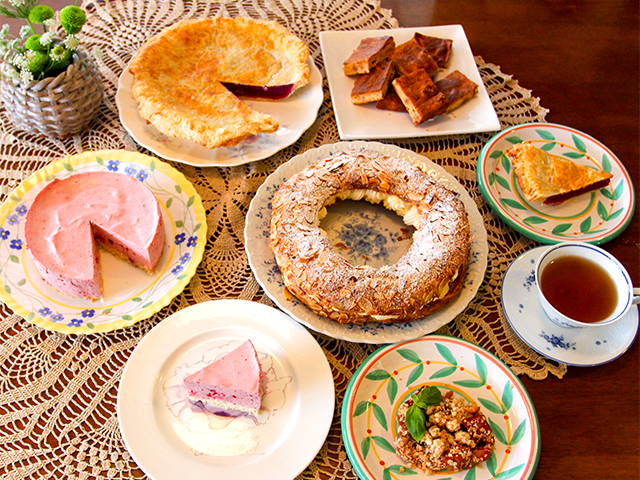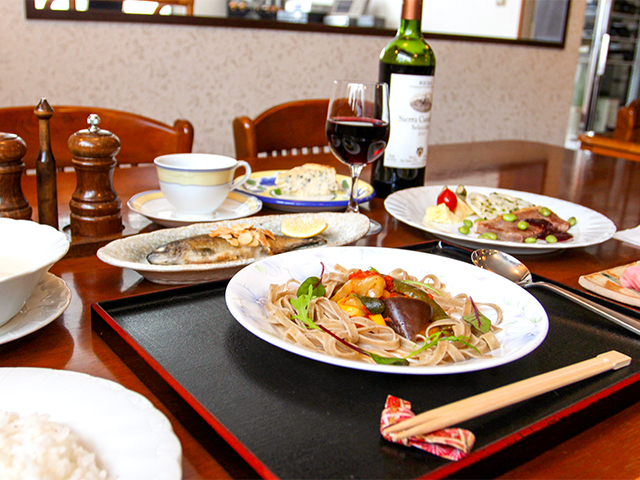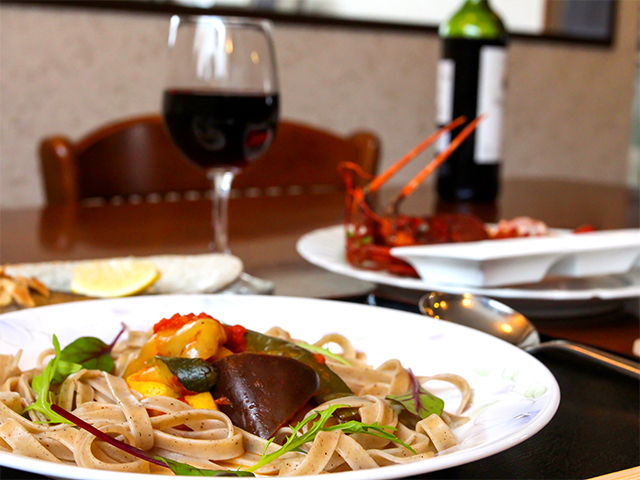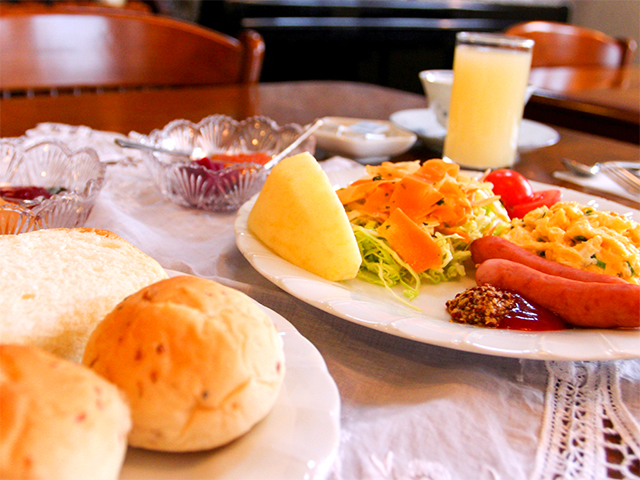 Home-baked Cake
After our full course dinner, we serve daily home-baked cake.
Assam-made Raspberry & Almond Pie, Blackberry Roll Cake Cheese Tart and Western Pear & Almond Tart...,
please top off your dinner with our original cake which has mild sweetness and rich taste.
Breakfast
Daily special western dishes including fresh bread, egg dish, sausages, vegetables, fruits, juice, coffee (tea) and so on.
We make 15-20 kinds of original jam and serve 4 kinds of them every morning. Free refills on bread, coffee (tea), juice and jam.
Home-made Fruit Wine
Home-made fruit wines of our strawberry, lemon, apricot, plum, blueberry, blackberry, yuzu citrus, kumquat and Chinese quince. Besides, we also have herb liquor of shiso herb, ginger, garlic, rosemary, sage, chive, mugwort, rowan and bamboo grass.
These liquors are made by the owner carefully and good to drink as a aperitif, nightcap and so on.
Wine
For our guests to enjoy the dishes more, we offer various wines, such as German dry wine of Riesling, French dry wine of Chardonnay and Sauvignon Blanc, full-bodied red wine made in Bordeaux, France and Spain. We also have Nagano wines of Chardonnay and Marlot, please ask us.
Japanese Sake
It has been 15 years since "Nagano Appellation Control (NAC)" started to improve the quality of wine, sake, rice, shochu and cider in Nagano. Because of it, local sake, such as Hakuba Nishiki, Hokuan Daikoku, Kinran Kurobe, Kita Alps, Daisekkei, made in Omachi City, Azumino City and Ikeda Town has been greatly refined.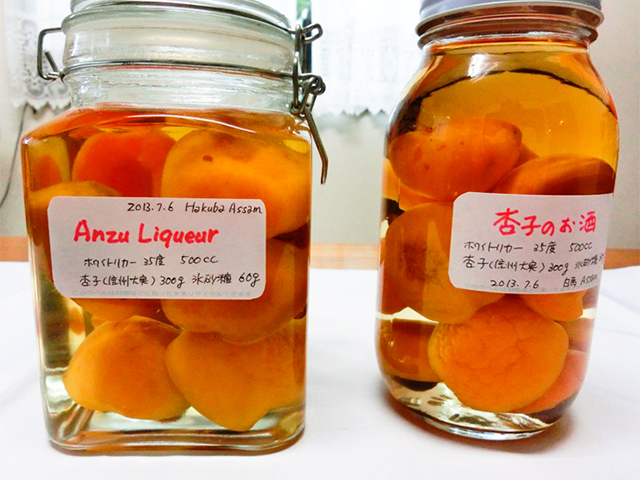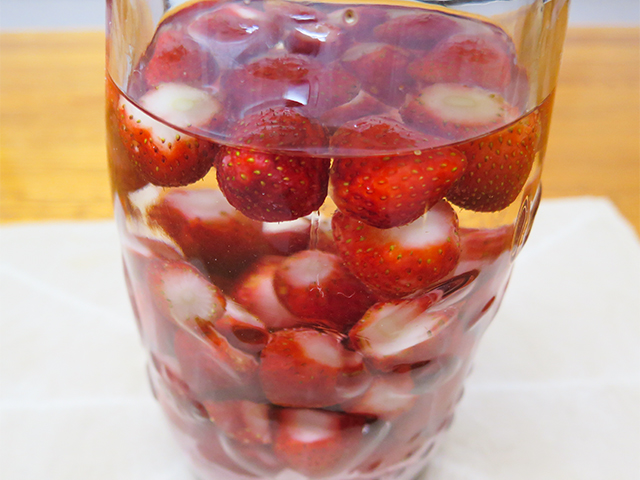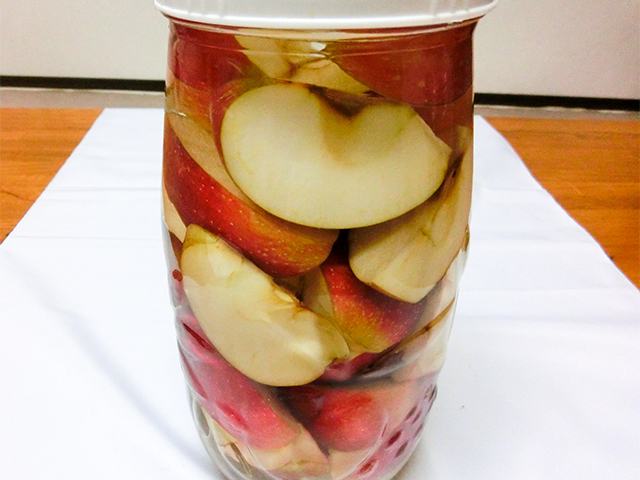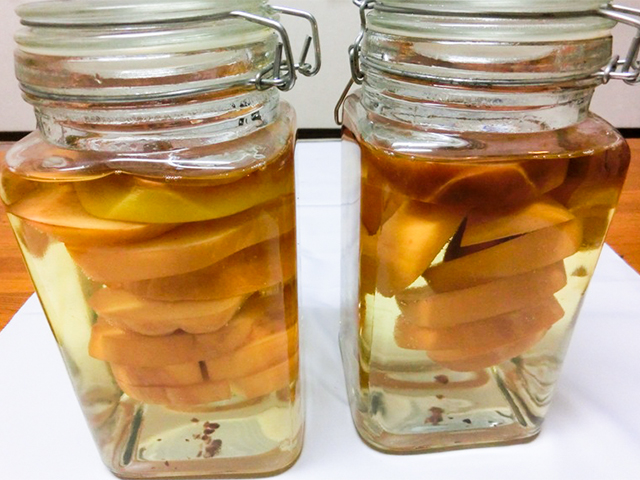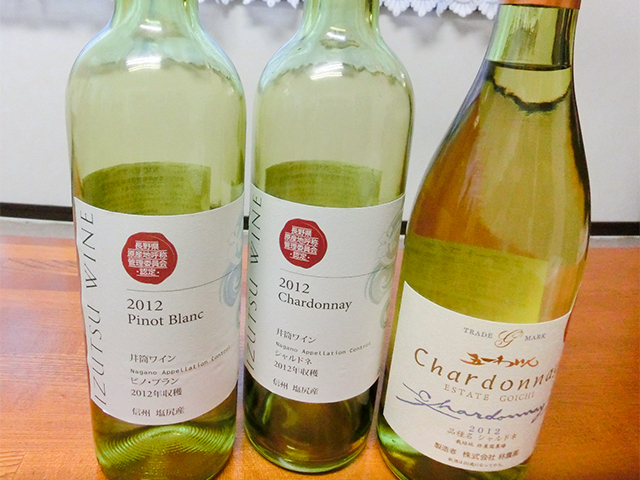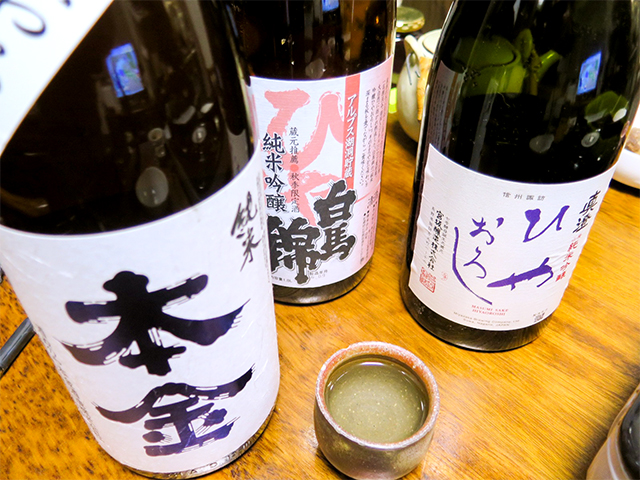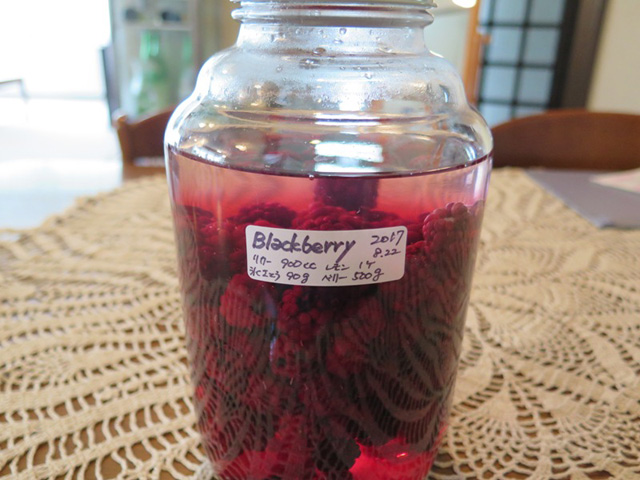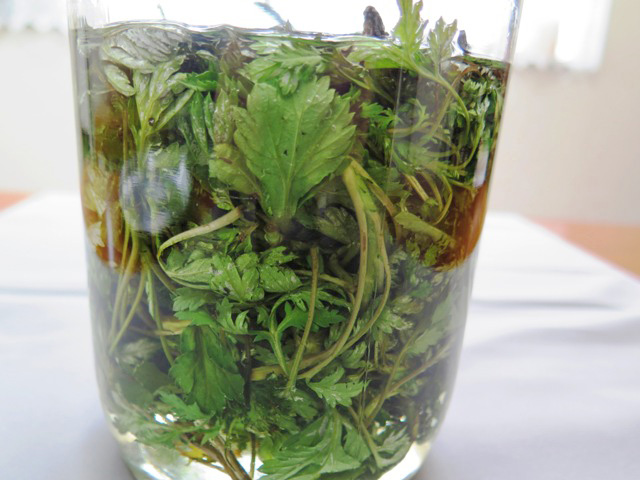 Home-made Juice
Raspberry juice made from fresh raspberries of Assam Farm, apricot juice, plum juice and red shiso herb juice which are made from organic ingredients harvested in Nagano have good reputations as well.
Barbecue
In the spring and summer season, you can enjoy BBQ in the great nature of Hakuba.
We provide only delicious foods, such as Chuck Roll of Shinshu Beef, chicken wings of Shinshu Kenbi-dori, rainbow trouts of Ikeda Town and fresh local vegetables (harvested in Assam Farm, during summer and fall) for BBQ. Long-term guests can change their full course dinner to BBQ (extra JPY1,000 per adult). BBQ is available for only 1-2 groups a day, so please ask us in advance.
There is a BBQ area with a roof in front of our hotel.
Guests of the cottage also can use the area, if they bring their foods by themselves (JPY500 per person), so please make a reservation.
(Extra JPY2,500 required for a BBQ Grill with Charcoal for 4-5 people.)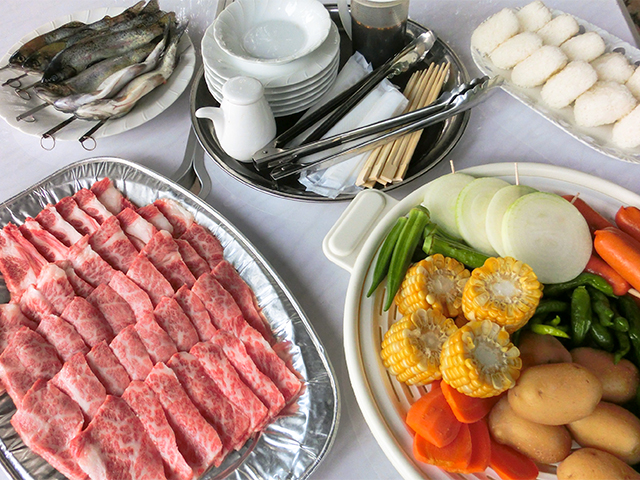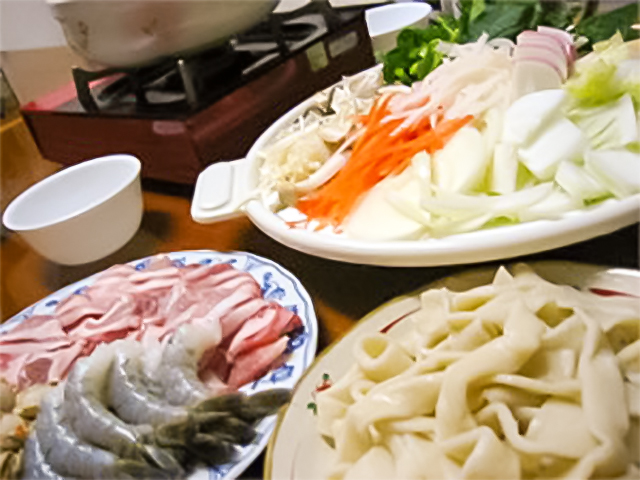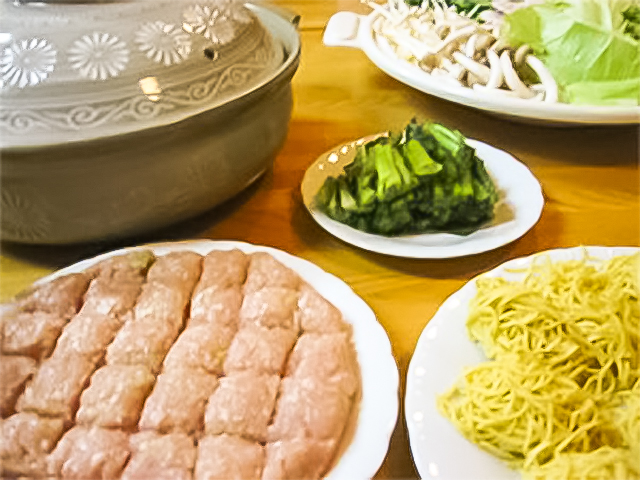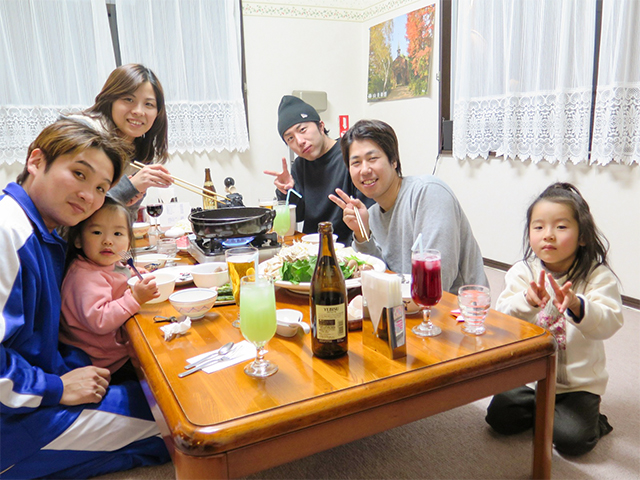 Nabe (Hot Pot) Dish
To long-term guests in the winter season, nabe (hot pot) dishes can be served as dinner (Please ask and make a reservation in advance).
The guests of the cottage also can order and have nabe dishes in the winter. Please choose one from 4 kinds of nabe dishes such as "Minced Shinshu Chicken Nabe". The hot soup will warm you kindly after skiing and snowboarding.
→
Assam's Special Nabe Menu (PDF)
Facilities
Petit Hotel
The guestrooms of our petit hotel are equipped with the bathroom, TV, refrigerator, air conditioner and Wi-Fi.
We have totally 5 rooms, 1 room for 2-3 people, 2 rooms for 2-4 people, 1 room for 2-5 people and 1 room for 3-6 people (All rooms are lofted rooms).
At the lounge, there are various board games.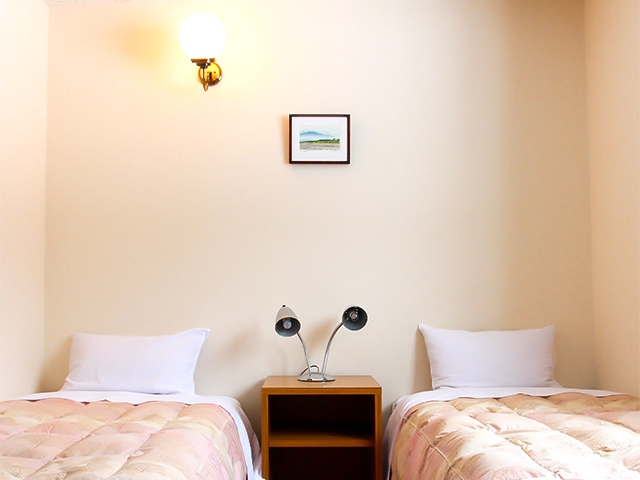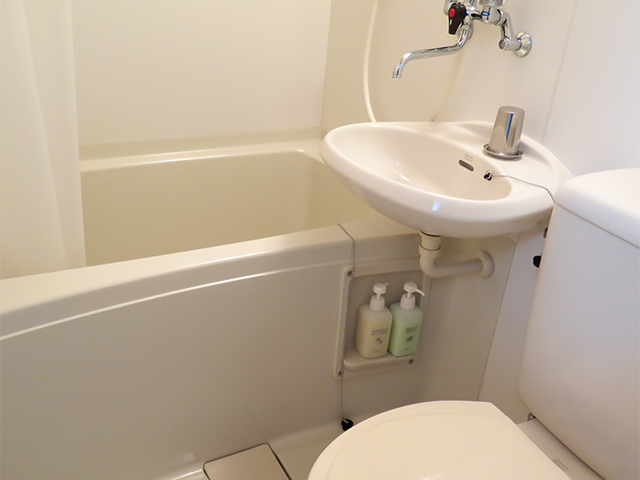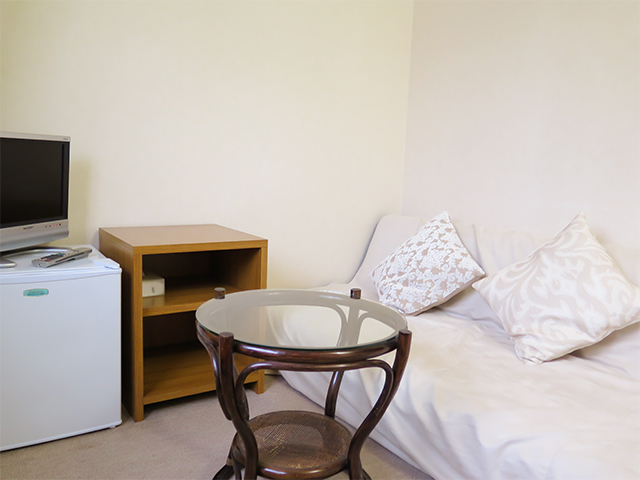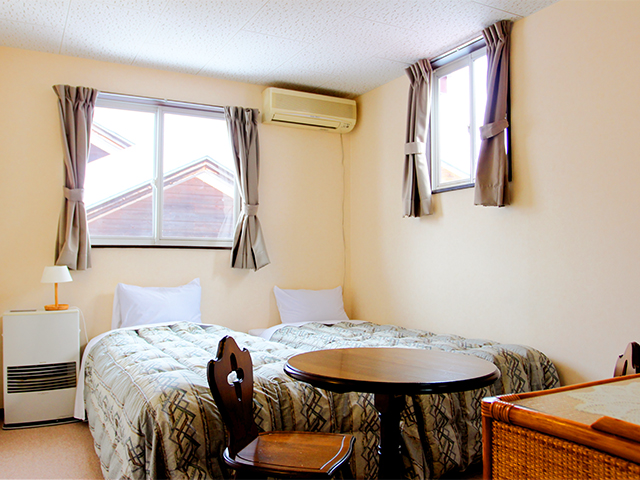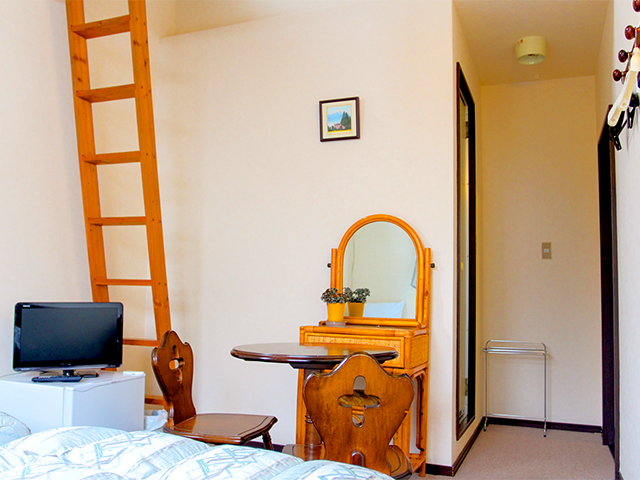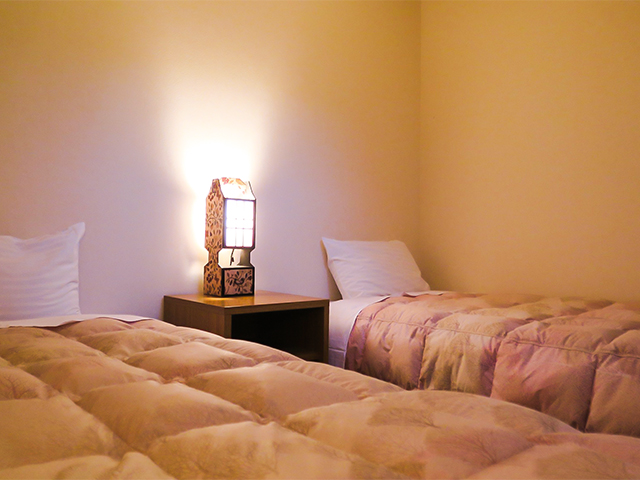 Cottage
Assam Cottage (Buna) is located next to our pension and it has 3 bedrooms, a bathroom, washroom and kitchen. Cookware and tableware are also provided.
BBQ in the summer and 4 kinds of hot pot catering menus in the winter are available. Please make a reservation by 3 days before.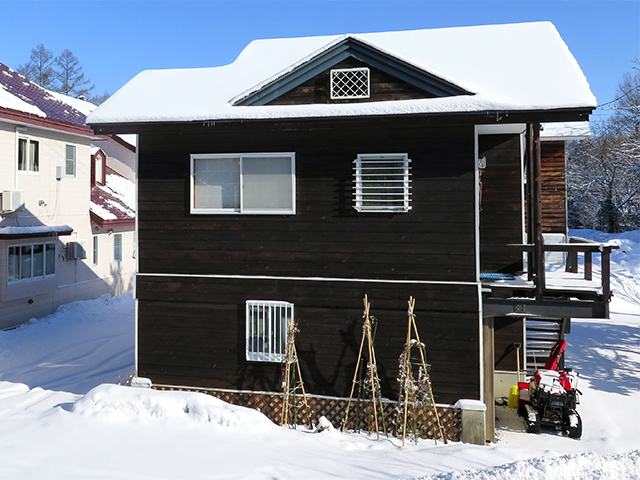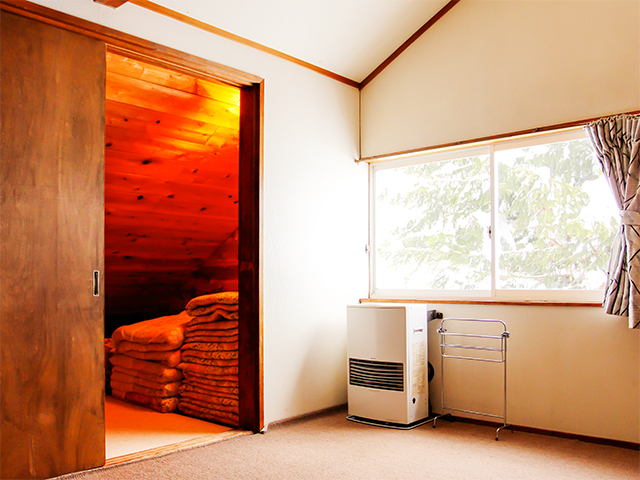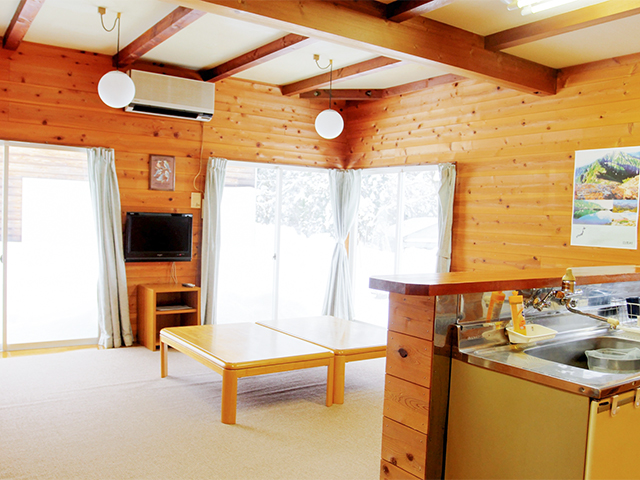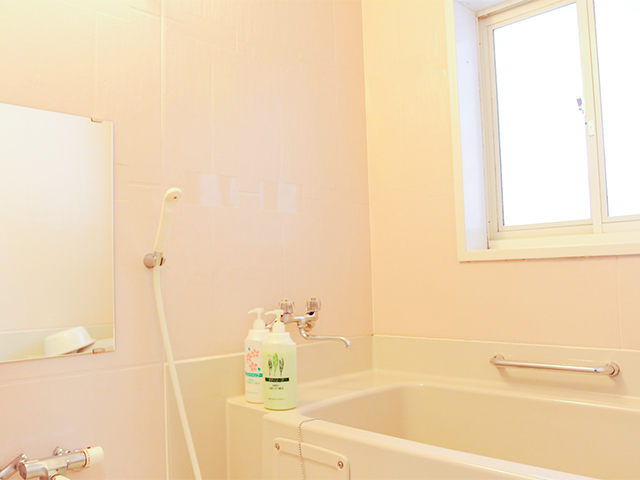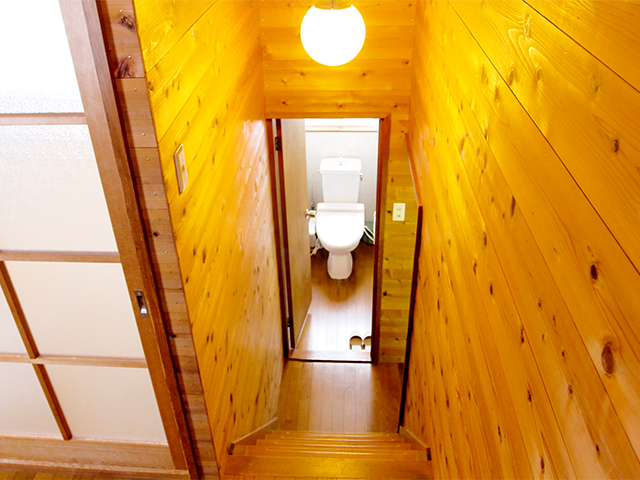 1F: Living Dining Room with Kitchen (Approx. 25㎡, equipped with a TV & DVD, refrigerator, microwave oven, rice cooker, toaster, tableware, cookware), Bathroom, Washroom

2F: 1 Japanese Room (Approx. 10㎡), 2 Western Room (Approx. 10㎡ and 12㎡)
Totally 15 sets of bedding are provided. Wi-Fi is available for cellphones, tablet PCs and PCs.
Assam Farm
Assam Farm
Fresh vegetables in the summer season, potatoes, zucchinis, tomatoes, eggplants, sweet peppers, green chilies, shishitoes, Fushimi chilies, lettuce, green beans. Strawberries, blueberries, raspberries and blackberries are harvested from July to September. Various herbs such as basil, mint, thyme, parsley, alpine leek, Japanese ginger, ginger, garlics. Onions, leeks, green onions, carrots. Basella alba, pumpkins, bottle gourds, watermelons, bitter gourds. Cabbage, napa cabbage, white ladish, small turnips. We grow various organic vegetables and herbs until November.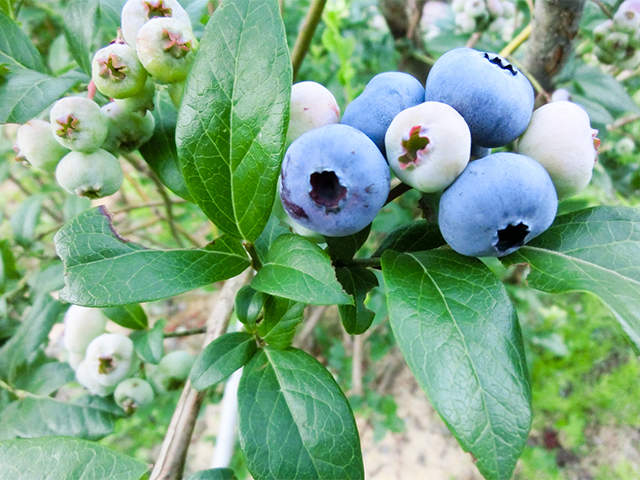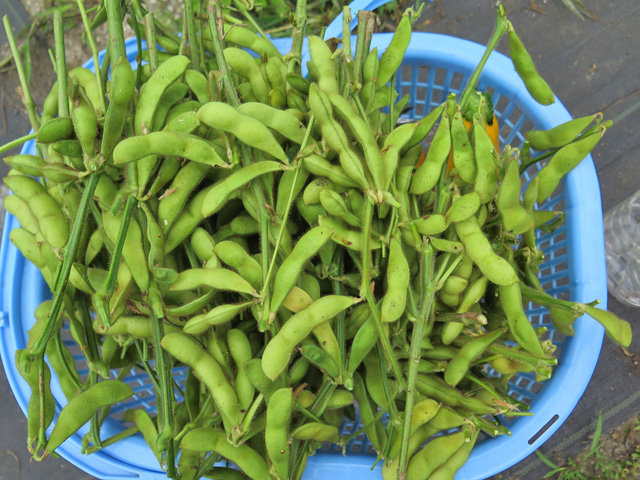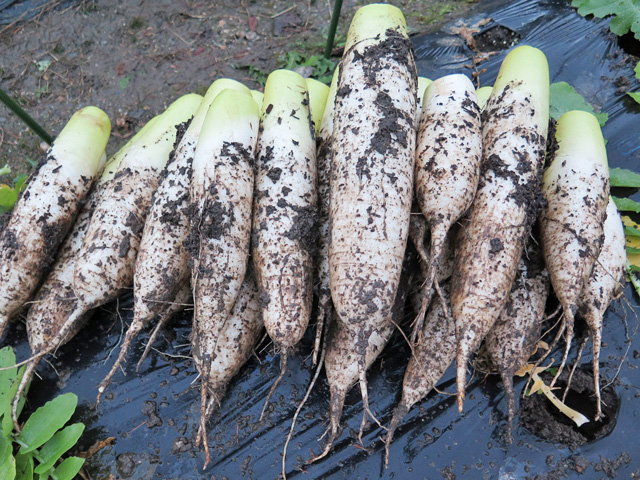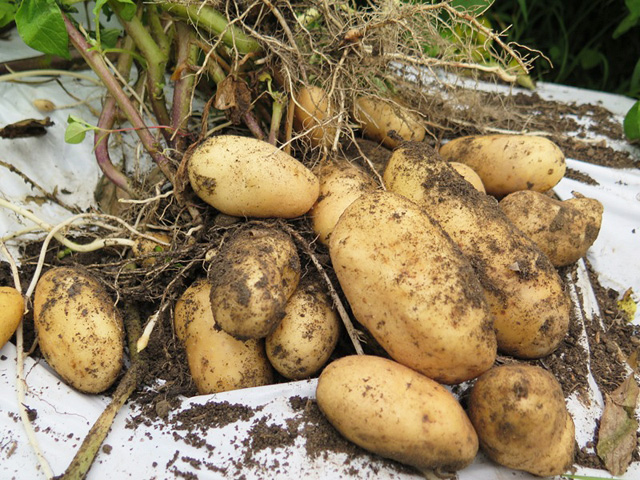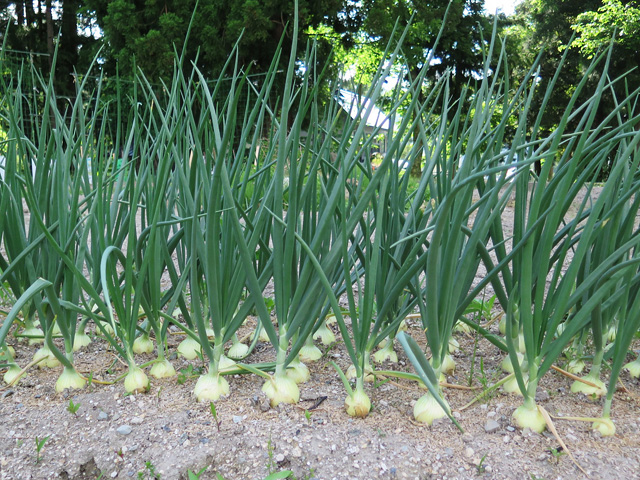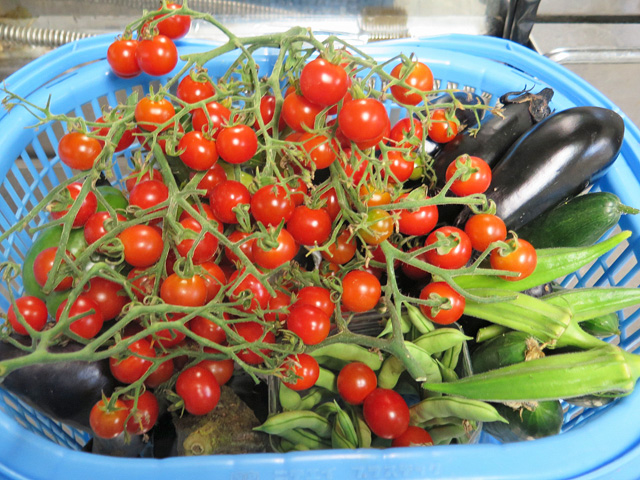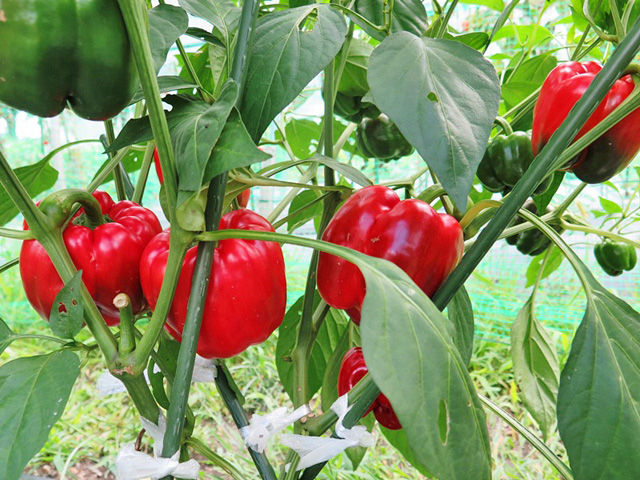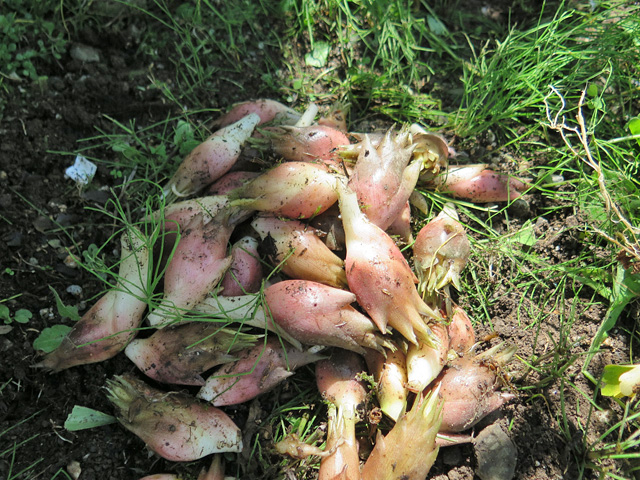 Home-made Jam
We make natural jam keeping primary sweet and sour flavor of fruits and vegetables.
Please taste it with toast, yogurts, tea and canape.
We always have over 15 kinds of original jams of fruits, such as apples, apricots, strawberries, blueberries and mixed jams for suvenirs (1 bottle JPY750).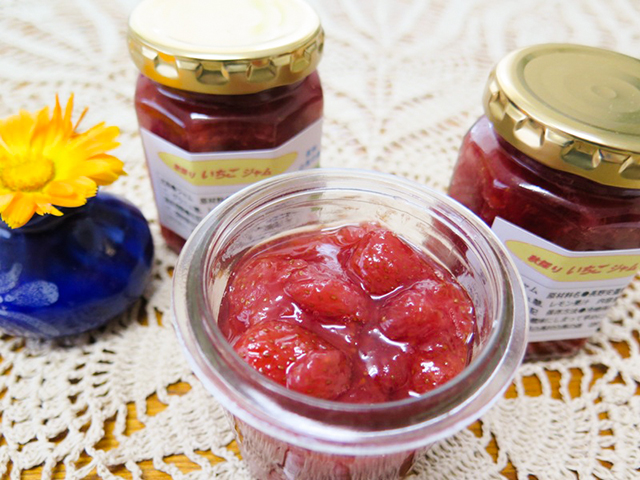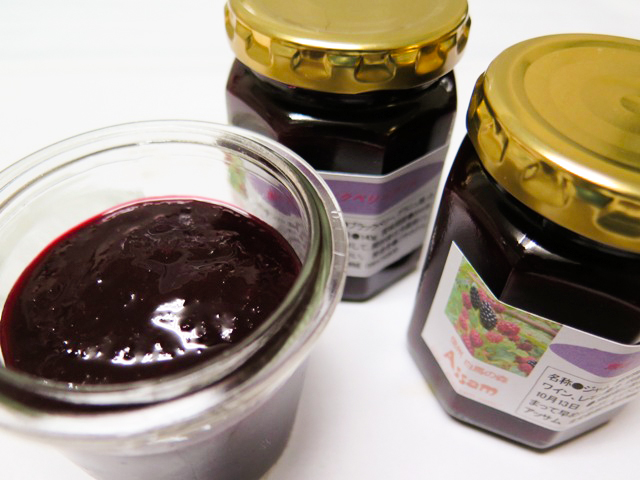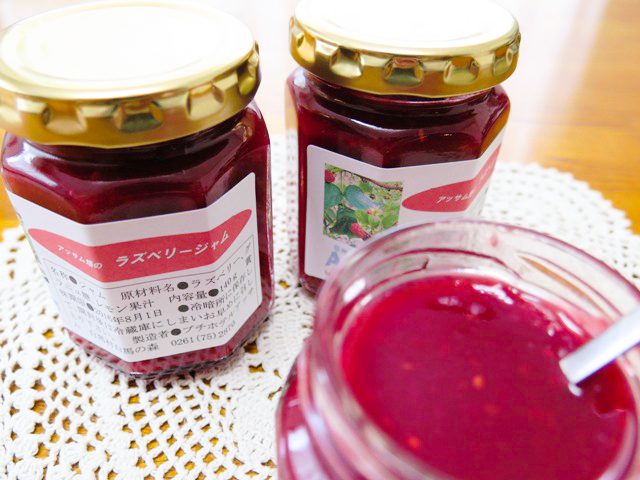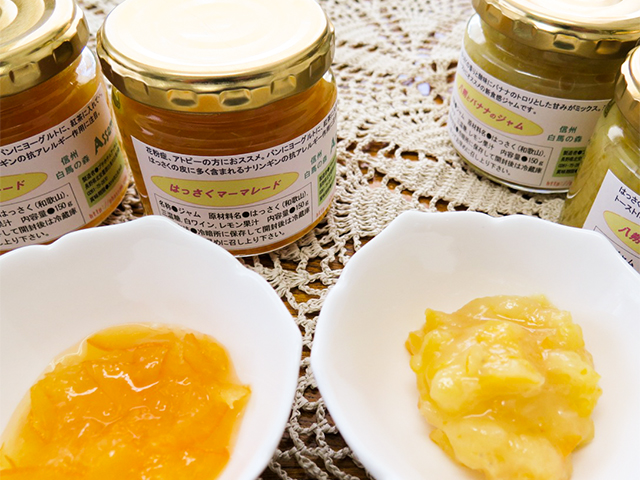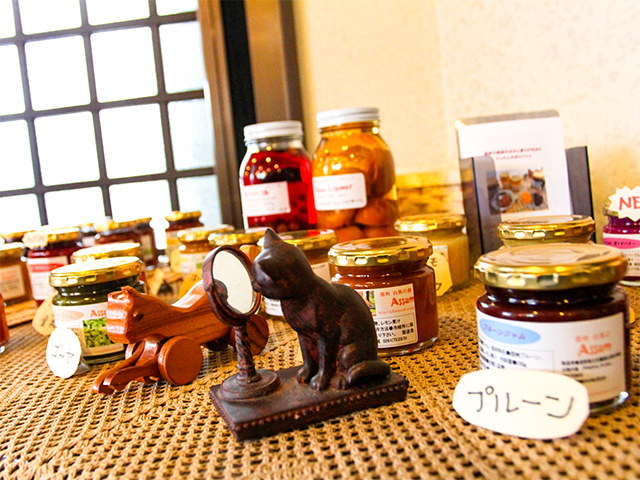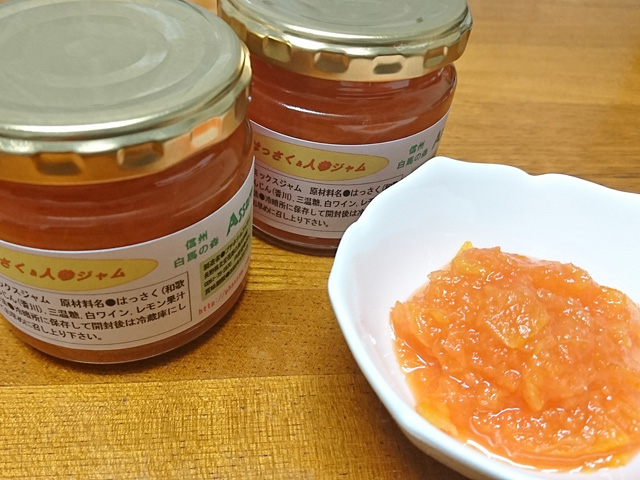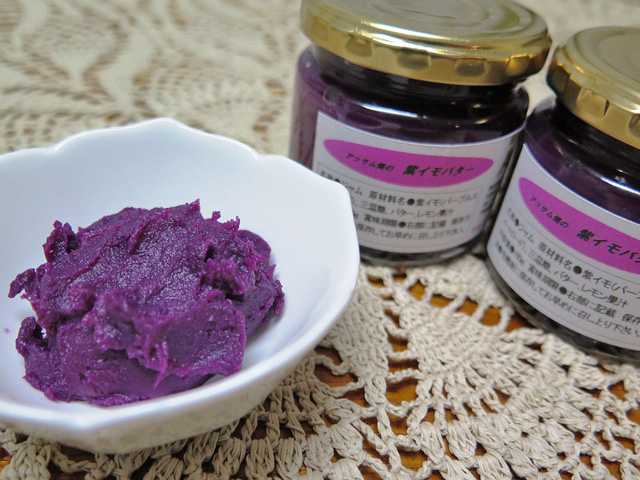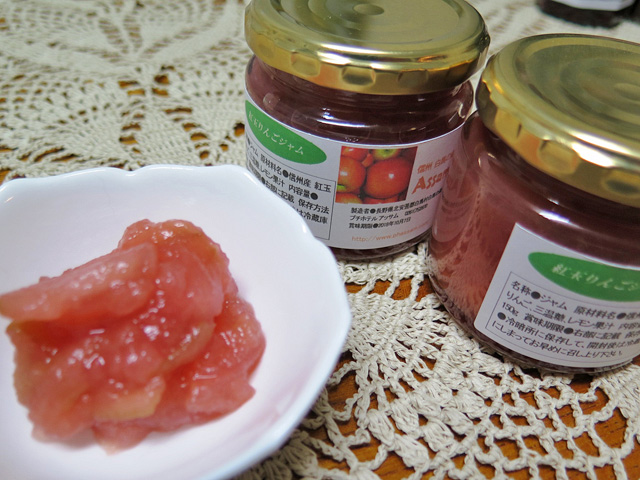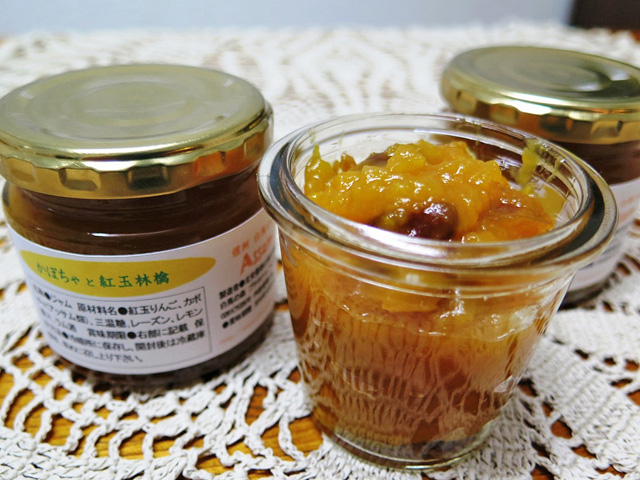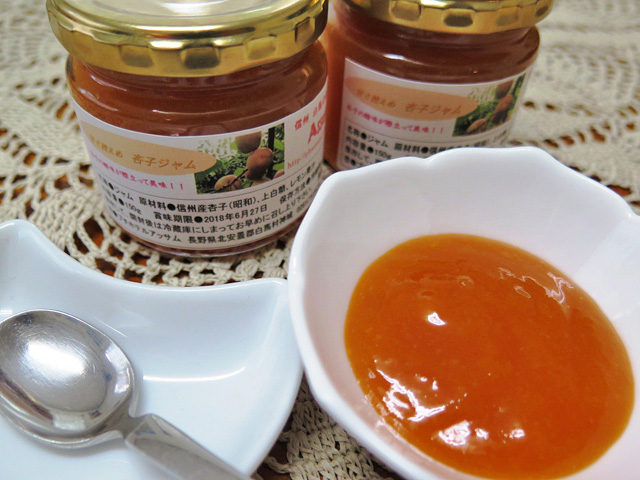 Sightseeing
Skiing & Snowboarding
In the mountain-foot area of Northern Alps, Hakuba has 8 great and unique ski resorts. Hakuba Goryu & 47 is the nearest ski area and it takes 5 minutes by car to Escal Plaza in Toomi Area and 1 minute to the bus stop for there. "Lift Ticket Package Plan" or early bird lift tickets are recommended. 15-20 minute-driving takes you to Happo-one, Iwatake, Sanosaka, Kashimayari and 30-40 minute to Tsugaike, Hakuba Norikura and Cortina.

"Snowshoeing"
Snowshoeing in the nature of Hakuba has great popularity. There is a half-day tour as well for people who would like to enjoy walking on the snow easily.

Hakuba Myster Tour
http://www.vill.hakuba.nagano.jp/myster/ture.html
Evergreen Outdoor Center
http://www.evergreen-hakuba.com/jp/snowshoe-tours/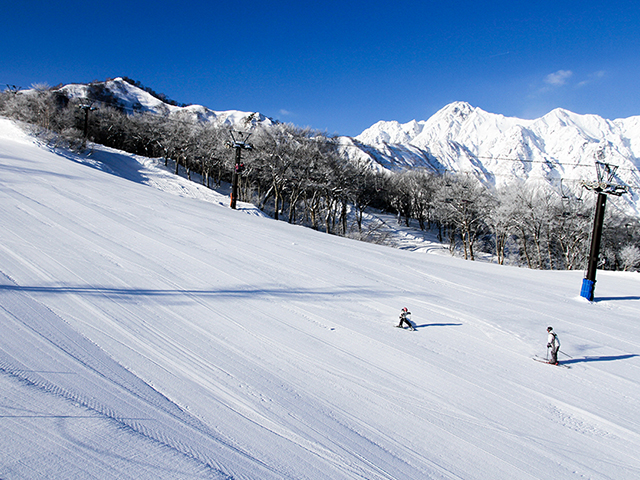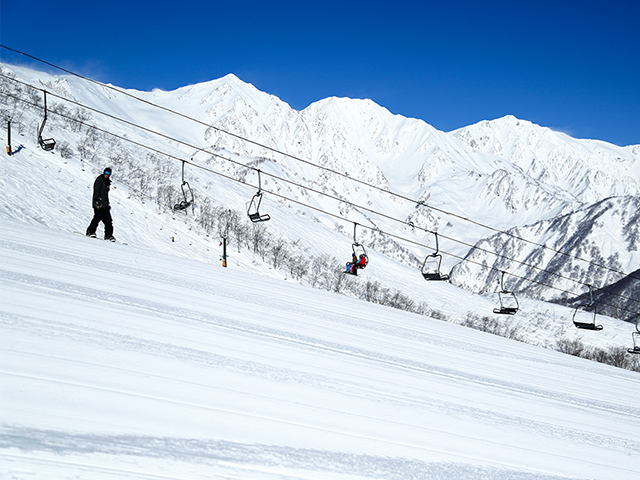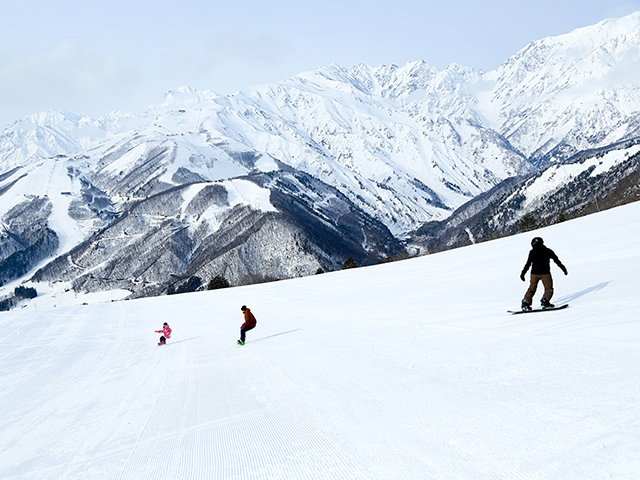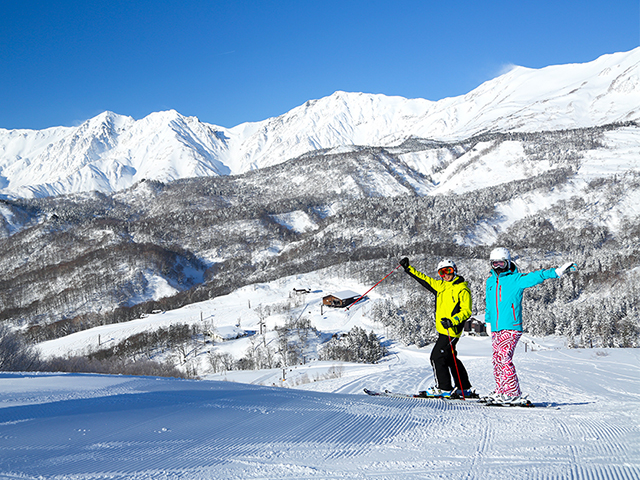 Trekking & Outdoor Activities
In the summer season, there are a lot of outdoor activities to try in Hakuba, like trekking in Happo Nature Trail toward Happo-ike Pond which has an elevation of about 2,000 meters, Tsugaike Nature Park of Mizubasho in Summer, Autumn tints and the panormic view of Northern Alps. Besides, you can meet various kinds of alpine flowers and enjoy 3-hour hiking to Mt. Kotoomi in Hakuba Goryu. Please ask and make a reservation in advance for hot air balloon, rafting, paragliding, canyoning and canoeing. At Lake Aoki, firefly tours are available until mid-August.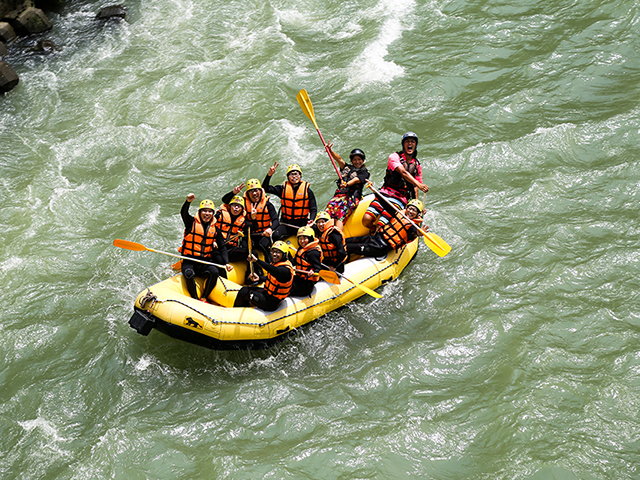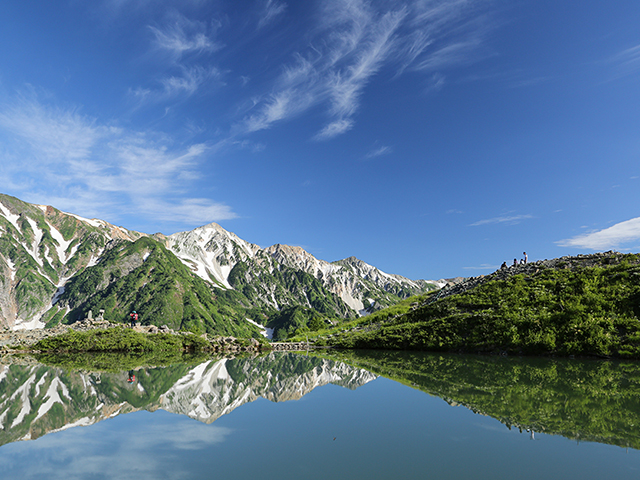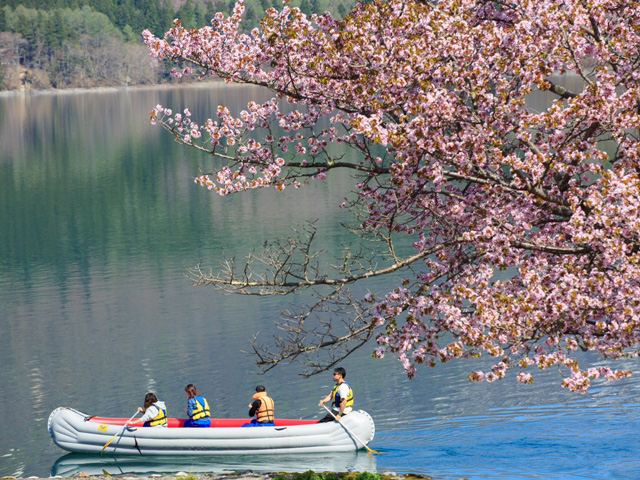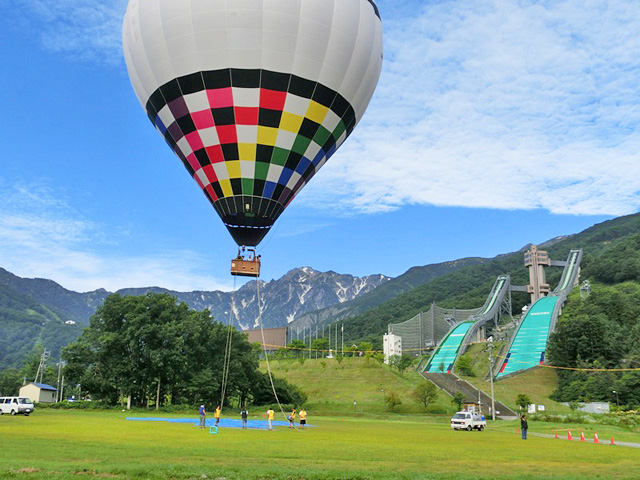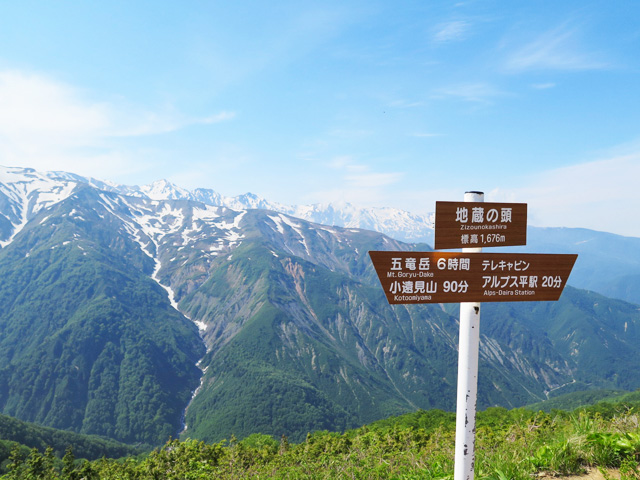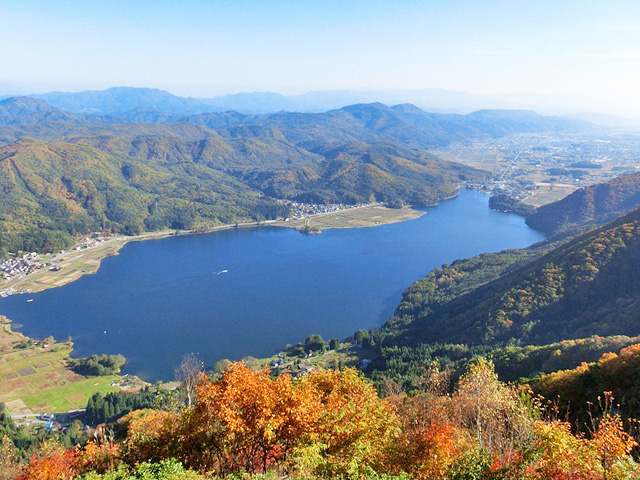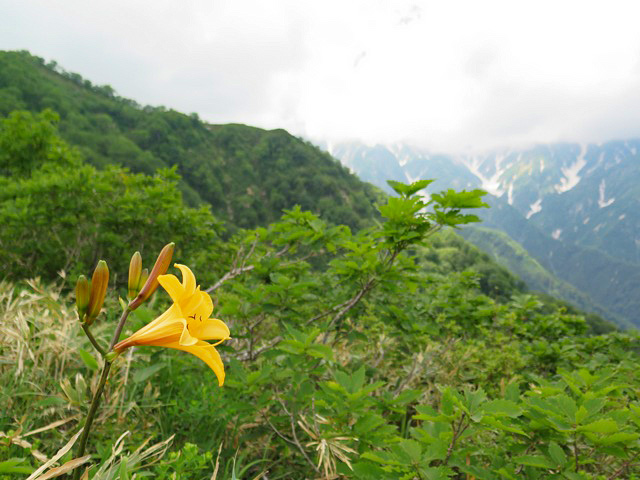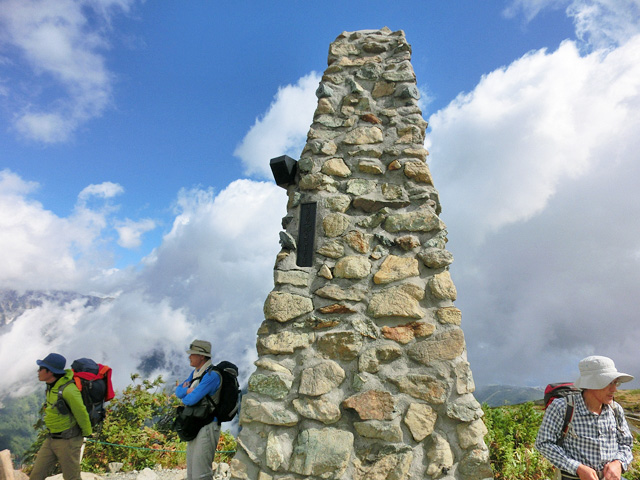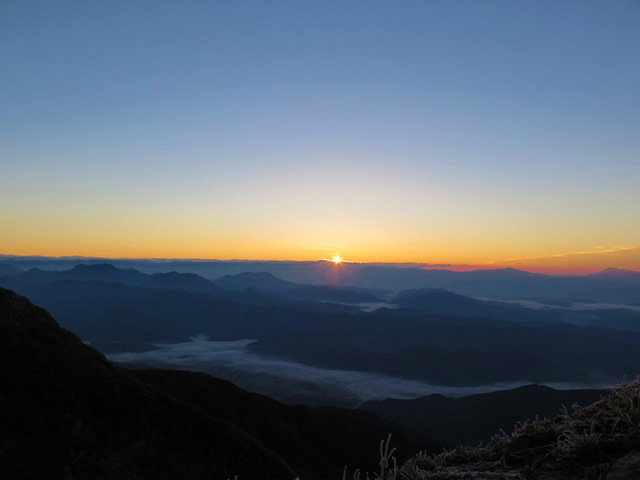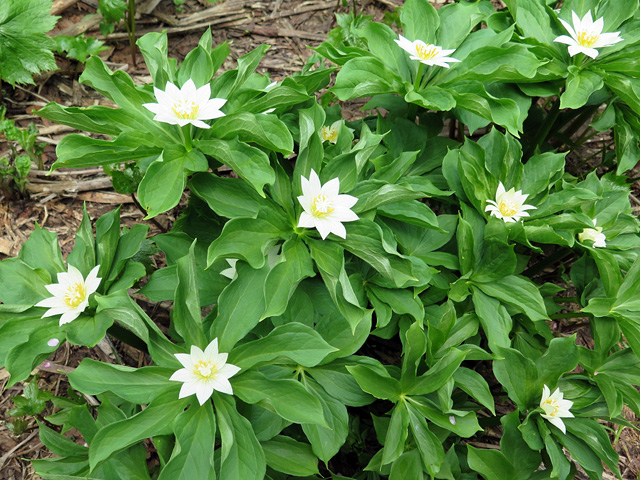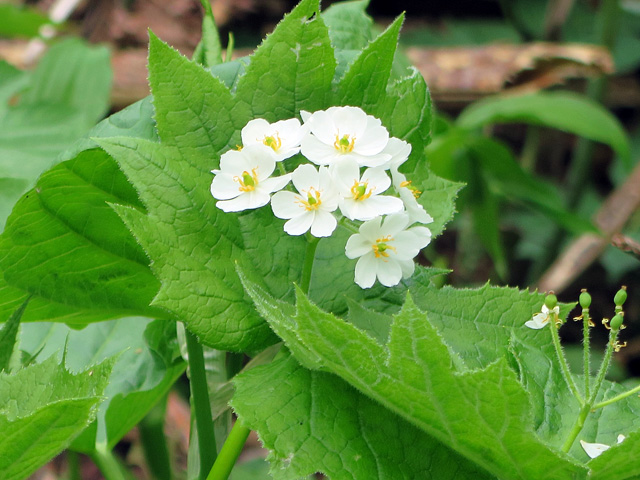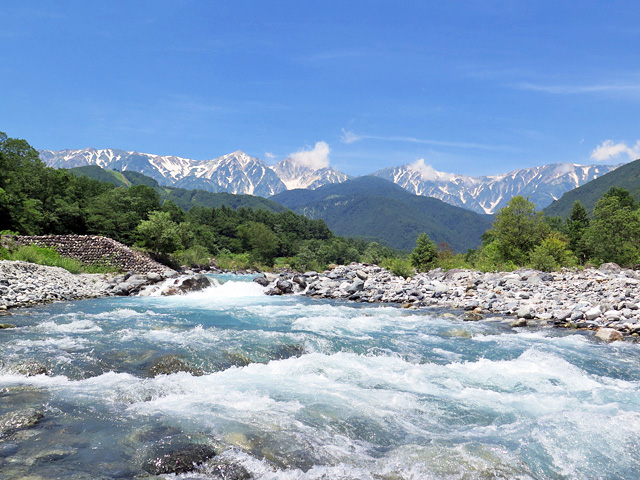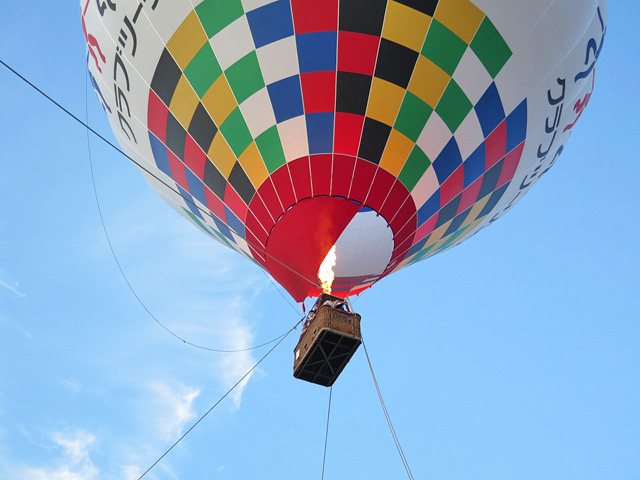 From Spring to Fall
Hakuba, a snowy country, has also a lot of attractions even from the thawing season in the spring to the beginning of the winter.
"Upper April" ... Fukujusou in Himekawa Genryu just after thawing.
"April-Upper May" ... White and big Kobushi at Shijuku-in. Cherry blossom in Oide Park and white peaks of Northern Alps. Weeping cherry at Teirin-ji and Chokoku-ji. Katakuri, Kikuzakiichige, Nirinsou.
"Late-May" ... Colony of Mitsugashiwa in Oyomi Marsh. Shiraneaoi in the snow valley during opening ceremony of Hakuba Mountains.
"Mid June-" ... Hakuba Goryu Alpine Botanical Garden after thawing. Shiraneaoi, Uruppusou, Syojobakama, Sankayou, Chinguruma, Kinugasasou and Mizubasho in Tsugaike Nature Park. Roses blooms everywhere.
"Upper July-" ... In Happo and Goryu, Komakusa, Ibukijakousou, Shimotsukesou, Kobaikeisou, Kurumayuri, Karaitosou, Nikkokisuge.
"Upper August" ... Koumebachisou, Miyamatorikabuto, Tamurasou, Oyamanobokuchi, Asamafuro in Goryu and Tsugaike.
"Upper September-" ... Matsumushisou, Oyamarindo, Ominaeshi, Nokongiku in Goryu and Tsugaike.
"Late Sep.-Upper Oct." ... Autumn Tints in Tsugaike Nature Park and Happo-ike Pond.
"Mid Oct." ... Autumn tints come down to Iwatake and mountain foot areas.
"Late Oct.-Upper Nov." ... Autumn tints around Lake Aoki. First snow on Northern Alps and three-layered Autumn tints of white, orange and green.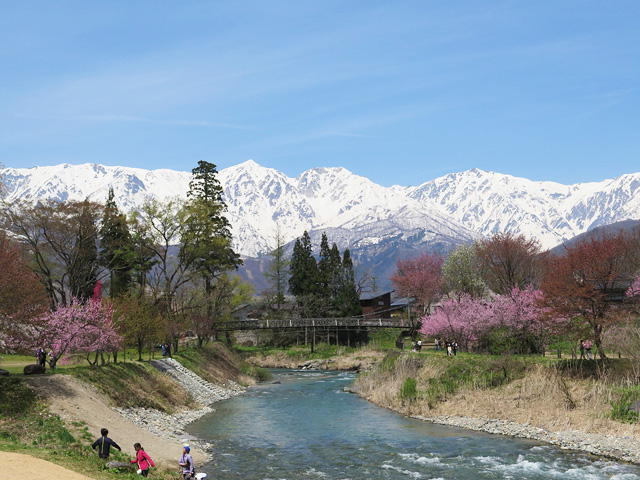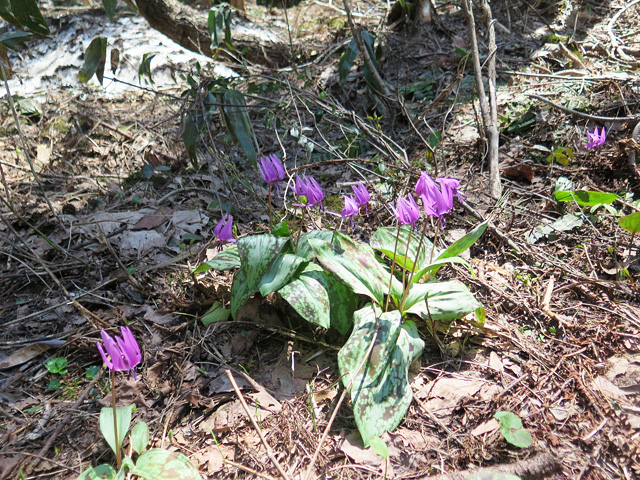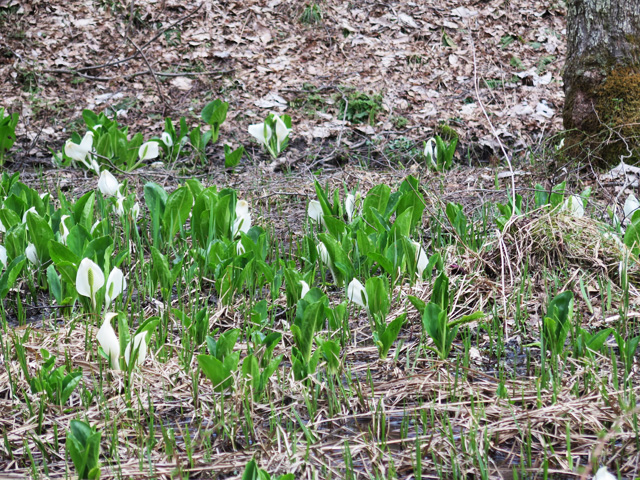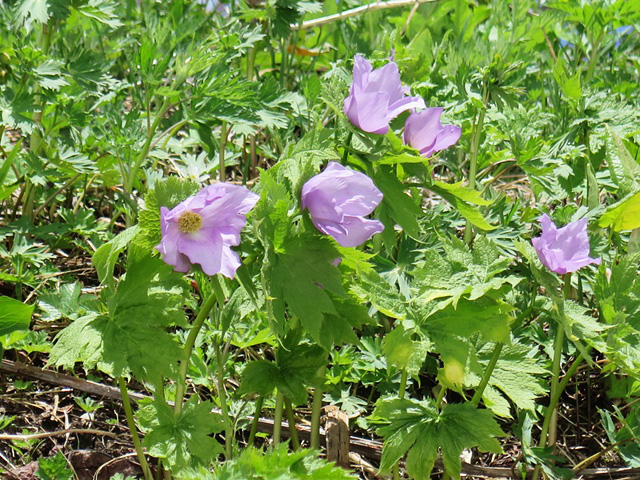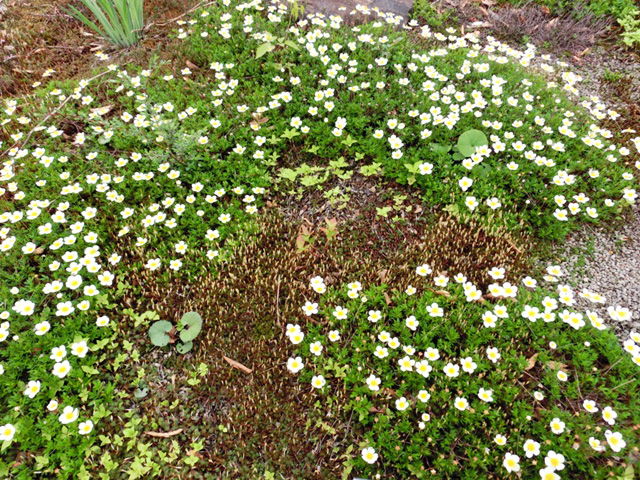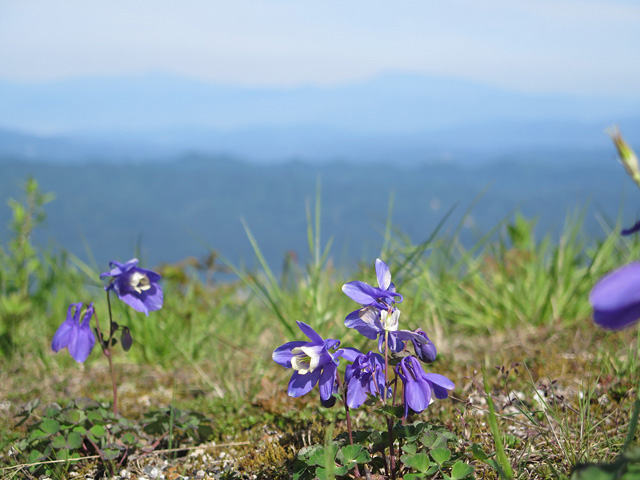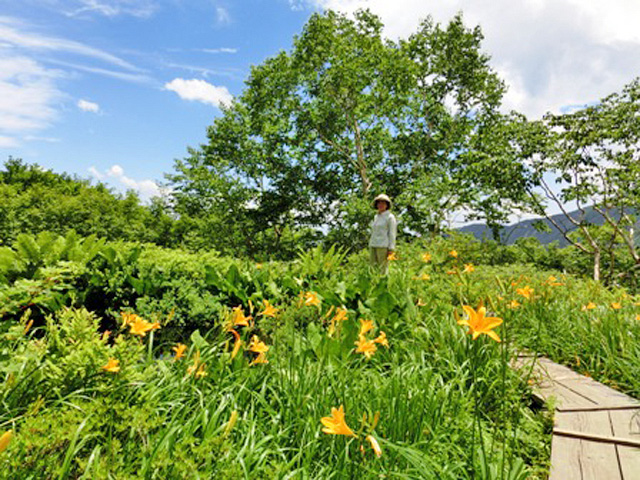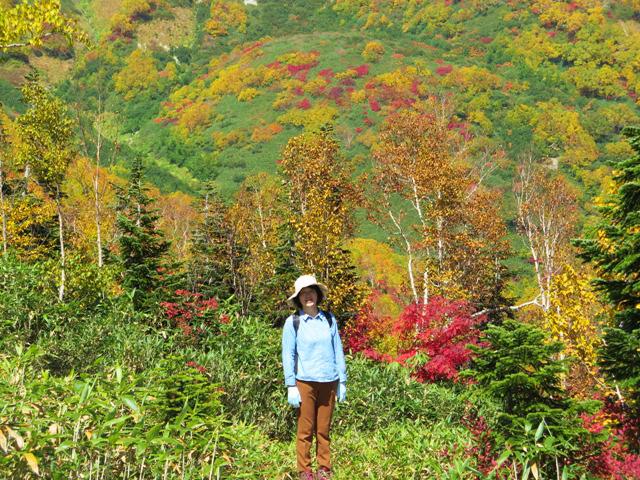 Stone Buddha Statues in Hakuba
About 190 years ago, in 1829 (Bunsei 12), people who lived in Sano Villge (currently Sano, Hakuba) built Sanosaka Saigoku Sanjusan-ban Kannon (Buddha statues) along Chikuni Kaido Road (Shio-no-michi) to hold a memorial service of people dying on streets and show the direction to tourists. About 100 statues (187 statues, if Batou Kannon is included) of Bando Sanjusan-ban, Saigoku Sanjusan-ban and Chichibu Sanjuyon-ban made in the end of Edo era still keep their refined shapes in Kannonbara (Kirikubo, Hakuba). It is said that there are over five thousands of stone buddha statues, such as Batou Kannnon, Vairocana and Koshintou in Hakuba which were made from Edo to Showa era, in Hakuba. Those statues have blended with the surroundings and nature already, but they are still watching over our lives.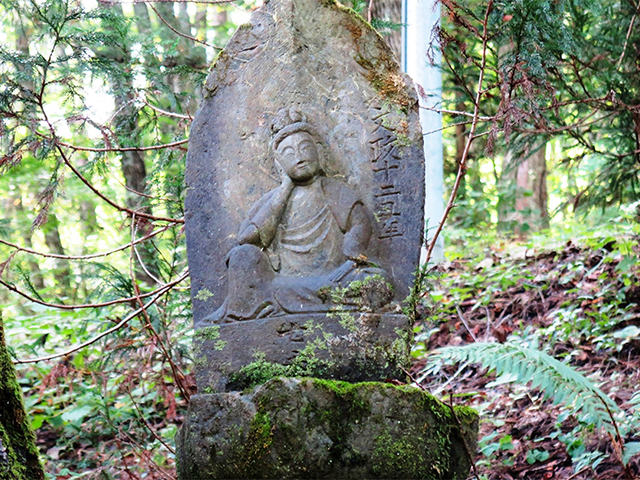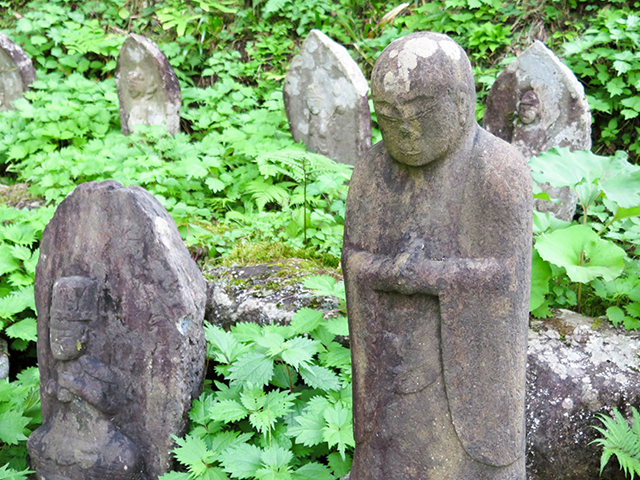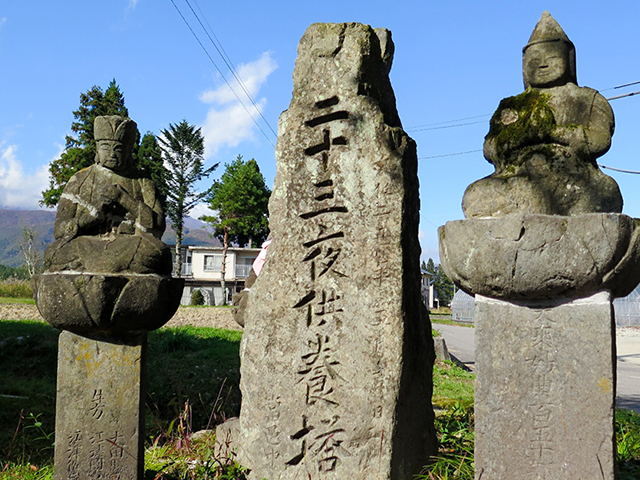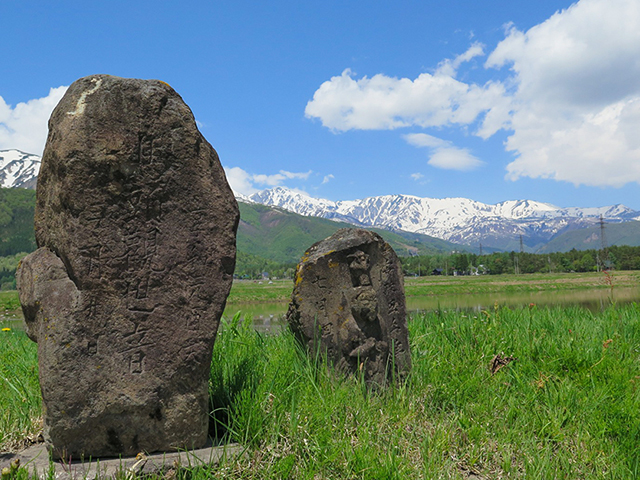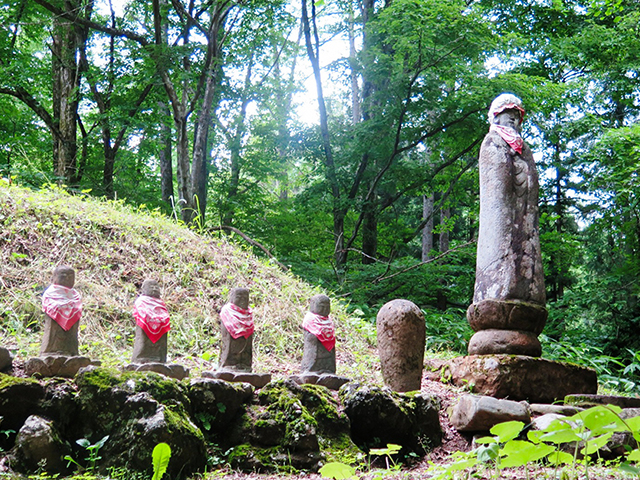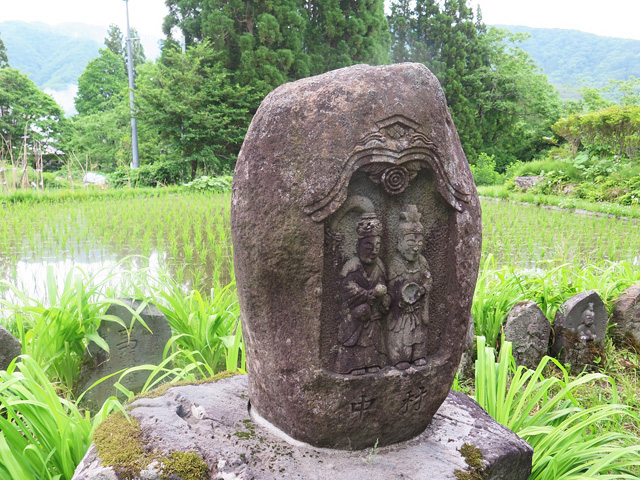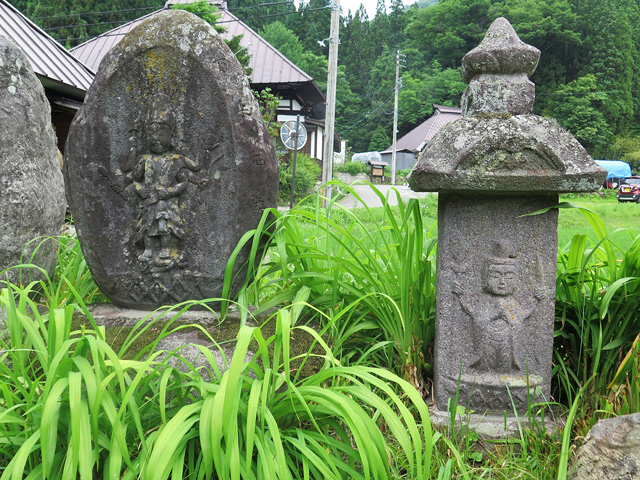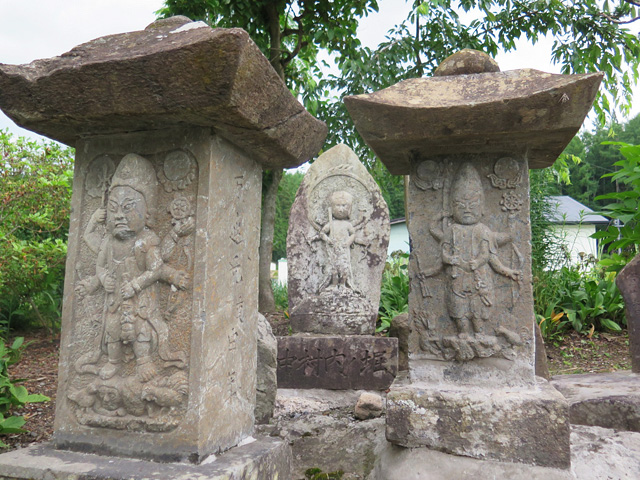 Access
〒399-9211 22346-49, Kamishiro, Hakuba-mura, Kitaazumi-gun, Nagano, JAPAN Petit Hotel & Cottage Assam tel.0261-75-2870

There are 2 ways leading to Assam from National Route 148 by car. Especially in the winter, please choose the better way depending on the road condition.

1. Go up along Inu-gawa River from the crossroads "Hakuba Goryu", and turn right at "Pension Chillps (チルプス)" in front of Hakuba Goryu Parking Area No.4. After gentle downward road, you can see our hotel on the left.

2. Go up from the crossroads of the national route near "Youth Villa" and turn left at the first corner, 150 meters away from the railway. You can see our hotel on the right. (There are signs, the guide board of Assam on the left and a traffic mirror on the right.)
*If you find the pensions, "Raichou (雷鳥)" and "Ciel (シエル)", you have already passed our hotel.